$

5.00
Volume 8 - Design and Innovate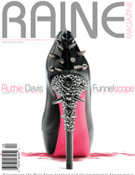 In this issue, we bring you innovative entrepreneurs from New York to Miami to the Mid-west.
Need your fashion fix? Get a glimpse of the famous faces wearing Ruthie Davis' super sexy soles and see what Nautica is up to.
What about travel destinations you ask? Volume 8 takes you to Belize, Van Couver and back. Also in this intriguing issue, meet Gershon Blyden, an entrepreneur with the "Midas Touch" and experience the waves of Villon Surf. As you peruse the pages, fall in love with Res, a stunning songstress with a soulful and timeless sound. And before you leave, don't forget to check out the coolest tech toys and where to eat and chill in NYC. For those of you that prefer to touch and feel our glossy printed pages -- you'll get an extra bonus with exclusive content brought to you through Microsoft TAG technology.
What are you waiting for? Collect Volume 8 today!